muscle building supplements - steroid alternatives
SORRY WE ARE UNABLE TO SUPPLY THIS PRODUCT AT PRESENT

The universal response regarding Extreme Muscle Pump is that THEY WORK! As bodybuilding supplement resellers, we are receiving feedback all the time from bodybuilders who rate Extreme Muscle Pump higher than anything else they have tried.
15- 30lbs of lean muscle growth is not just a chance depending on your reaction to this product - it is to be expected! with some users comparing the results to that of anabolic steroids !
If you want to build muscle, then this product can pump your muscle so hard, that you will be able to push those heavier weights and in turn increasing your muscle fullness and size.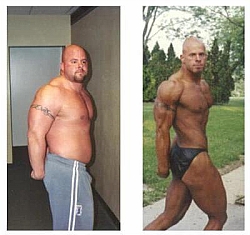 What will it do ?
Within minutes of taking Extreme Muscle Pump you will begin to feel energetic and alert. Since Extreme Muscle pump is suitable for both men and women, do not have androgenic side-effects, and (currently) are suitable for use in drug tested competitions. Thes extremely powerful muscle building supplements will be the best thing you try to give you pumped up and rock hard muscles - especially when your are working out.
There have been few other supplements that people have commented that they actually 'feel' working like this. A number of common reports have been dramatic strength improvements within one month of supplementation, and commonly a 20kg increase in bench press strength.
As one person told us, they have use every product that's been on the supplement market over the last 20 years and nothing has compared to what they experienced with this product. Therefore, after such positive testimonials, we have managed to get a great deal with this supplement company and sell to you with the LOWEST price GUARANTEED!
Best of all this product has no known side effects and is totally legal for now ! buy now as stocks of this product is limited as they are imported from the USA where it has had huge success and is selling out fast. Anyone who knows anything about bodybuilding will know how good this product is already and how it is taking the bodybuilding circuit by storm !